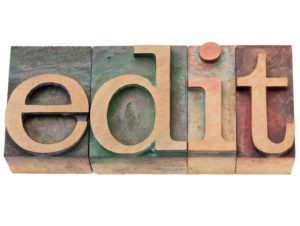 Development editors have the honor of making a good book great. They make a book the best it can be, while maintaining the integrity of the author's words and intent. Development editors take an unbiased and critical look at a book—word by word, line by line, chapter by chapter.
Why would you need a development editor?
Whether you're an author of fiction or non-fiction, an autobiography or a biography, a children's book, a cookbook, or a textbook, every book in every genre can benefit from a development editor's eye. Blogs, eBooks, and website content are no different. Development editors can add significant value to an author's work.
In-house editorial development is part of the process of higher-education textbook publishing. This is where I got my start as a development editor. However, as I expanded my business, it came as a surprise to me that this important component is not a part of the typical in-house process at a trade-book publisher.
Traditional trade-book publishers look for projects that are ready to sell. Plug and play. Final. They are not interested in working closely with most authors to massage content to make a best seller. They want a best seller to arrive on their desk. The precious time of an in-house development editor is reserved only for projects that will guarantee a return on their investment.1 It is incumbent upon the author to work with a development editor, prior to submitting the work to a publisher or even an agent.
What will a development editor do for your work?
A development editor (sometimes called a content editor or book doctor) will work with an author to ascertain the goals of a project, the intended market, and any unique information that might be relevant to the work. Upon a thorough review of the project, the development editor will offer specific comments related to the development of the premise, story, character, and voice. He or she will suggest specific revisions to the content itself to improve style, dialogue, pace, and narrative.
The complex process of development editing is forensic in nature and is unique to the needs of each work. The development editor's expertise is to polish the content of a project and make the content, or more importantly the author, look good.
What will a development editor not do?
Development editors will read the book from the perspective of the book's target audience. They are not necessarily content experts. If the target audience requires the development editor to be a content expert, then you should hire a development editor with an expertise in that field. But in many cases, the target audience is an average reader and a traditional development editor will meet your needs.
Development editors are also not necessarily copyeditors or proofreaders who will fix every typo and correct every grammatical error. They may correct some of these errors as part of their process, but that is not their focus as they develop a book.
Why should you hire a development editor?
Most great writers will agree that it's impossible to effectively edit your own work. Hiring a development editor can be invaluable to the success of your work.
There are great writers who need very little input from a development editor. But that input can mean the difference between a great book and a best seller. Likewise, there are brilliant professors who are not natural writers; they are content experts, not writing experts. Best-selling fiction authors might have the most creative story in mind, but have difficulty formalizing a cohesive story on paper.
It doesn't matter how savvy you are as a writer, the eye of a development editor can be critical to the success of a project. Depending on the state of your work, a development editor might only need to tweak a few things. Or they might need to pull apart your work and put it back together. Don't be alarmed or offended in any way. That is the development editor's job.
As more and more authors look to self-publishing as an option for seeing their work come to life, a development editor can be an invaluable part of the adventure. 2
Who should you hire as a development editor?
Hire a development editor you trust. If you don't know the development editor, ask for a sample of what they can do for your work. Each project is unique and should be treated as such. Once you decide on the development editor of your choice, trust their instincts, relax, and enjoy the process.
When should you hire a development editor?
An author usually hires a development editor when the work is complete. However, the ideal time would be to work with a development editor at the beginning of your writing process to identify the best course for the goals and outline of your work. A good development editor will work with whatever strategy makes you comfortable.
Happy writing!
Sources:
1 http://www.alanrinzler.com/blog/2012/07/03/what-should-you-expect-from-a-developmental-editor/ and http://ww.press.uchicago.edu/Misc/Chicago/288447.html
2 http://www.underdown.org/publisher-expertise.htm